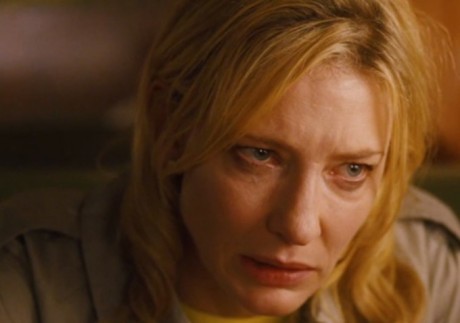 The first time I laughed at the new Woody Allen movie "Jasmine Blue" – and I must confess I have had only intermittent interest in his films (liked "Midnight in Paris," skipped  "To Rome With Love") for a while and had no idea what the film was about – happened very early on. Later I realized that the gag, which was indeed funny at the time, or at least I wasn't the only person laughing (which has been happening these days with increasing frequency) was, in retrospect, not funny at all.
To cite the difference between comedy and tragedy as defined in Allen's "Crimes and Misdemeanors" ("If it bends, it's comedy, if it breaks it's tragedy" and "comedy is tragedy plus time"), this was tragedy. However, the scene inverts the other part of the definition, because this was a case of tragedy being comedy plus time.
I'm referring to when Jasmine (Cate Blanchett), disembarking a flight at the San Francisco airport, enthusiastically engages an elderly woman in a conversation, or rather a monologue, talking with intimate detail about her husband, her friends, her chi-chi lifestyle, dropping names and labels and price tags. They pick up their luggage (Jasmine's is Louis Vuitton), the older woman's husband arrives, they go their separate ways, and it becomes obvious that the woman is not an acquaintance of Jasmine, but a total stranger who had the misfortune of sitting next to this crazy person who, in lieu of talking to herself, has unloaded on her fellow passenger her whole delusional life history.
No more bending – it's broken.  And with that the laughter stops.
Jasmine, as the expertly wound and uncoiled exposition eventually establishes, had been married to Hal (Alec Baldwin), a Bernie Madoff-like high-stakes financial conman. After Hal got busted, Jasmine was left disgraced and penniless, and her husband's fall also took with it the nest egg of Jasmine's sister Ginger (Sally Hawkins) and Ginger's husband Augie (Andrew Dice Clay),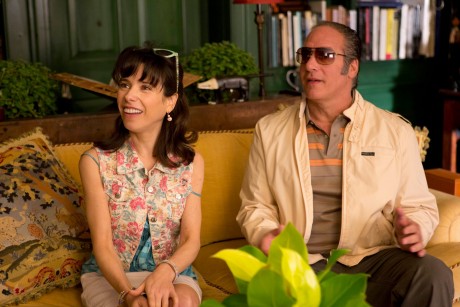 in effect ending their marriage.
Now Jasmine is forced to seek a place to live with her sister in her meat-and-potatoes San Francisco apartment.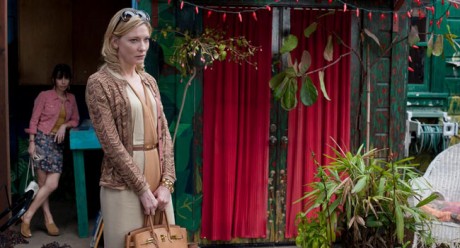 There she descends like a queen, in denial about her fall from the upper class, picky and bitchy and, Blanche Dubois-like, alienating Ginger's new, Stanley Kowalski-like boyfriend Chili (Bobby Cannavale) – hey, why not throw in the "two guys named Cheech" from "Annie Hall?"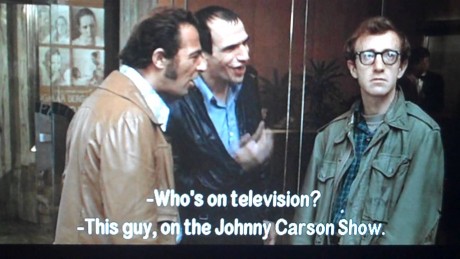 – who hates Jasmine's undeserved sense of entitlement, her condescension and disapproval, her meddling, and her hoity-toity ways.
Yes, it's A "Streetcar Named Desire." But the theme of class and cultural differences has underscored many of Allen's films, going back at least to his first "serious" movie, the pseudo-Bergmanesque-with-sidetrips-to-Chekhov "Interiors" (1978), in which the patriarch of a snooty waspy family dumps his brittle, joyless wife for a bubbly "vulgarian" – a long-in-the-tooth party girl. There are sister problems in that film, too.
Though "Blue Jasmine" draws on many such long-established Allen – not to mention Tennessee Williams – themes, it does break new ground. I'm not positive, but I think this is the first of his films that cleaves so intensely to one character's point of view, to the extent that it is never altogether clear whether a sequence involves a flashback, a hallucination, or both.
A couple of notes about Blanchett's performance. I would say that it is the best I have seen in any Allen film. Hypnotic, unrelenting, it inundates the screen with nuanced misery, anger, self-deception, unearned arrogance, snobbery, pathos, prickly resilience, petty resentment, deluded self-entitlement, and despair. And sweat. This is not a woman you should ask out on a date, even though Peter Sarsgaard's slick and wealthy widower gives it a shot.
The portrayal affected me so much that by the end of the film I found myself sweating as much as Jasmine. Here's an observation I have made about sweating actresses: the last non-American English-speaking actress who sweated this much, to the point of having visible half-moons of perspiration under her arms, was Tilda Swinton in "Michael Clayton" (2007).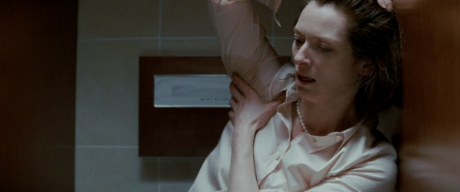 She won an Oscar for Best Supporting Actress. I foresee a Best Actress nomination, at least, and possibly an Oscar for Blanchett, but she would probably have accomplished the same whether she was sweating or not.
Nonetheless, Blanchett's tour-de-force performance has the paradoxical effect of concealing what it is that makes her character so crazy. She wraps the viewer so thoroughly in Jasmine's unreliable point-o- view that the reasons for her downfall and ostracism are hard to figure. Since this is a tragedy, and Jasmine ostensibly is the tragic hero, what is her harmatia, her fatal flaw?
Is it the fact that she's a snob? A compulsive liar? A narcissist incapable of empathy or self-awareness? In a state of constant denial? Is it simply because she enjoys the buzz from a couple of bottles of wine or three or four Stoli martinis and a dozen Xanaxes? And then there's her poor judgment in men:

she sure knows how to pick them – both for herself and others, and when she actually finds a keeper, she doesn't have the moral fiber or good sense to capitalize on it.
Maybe she's simply guilty of denial, willfully blind to the failings and treachery of a man she idolizes. For in addition to bilking friends out of billions and cheating on his wife, Hal commits the unforgiveable offense of equating price tags with value, of adorning his property with artworks for which he has no appreciation except as status symbols.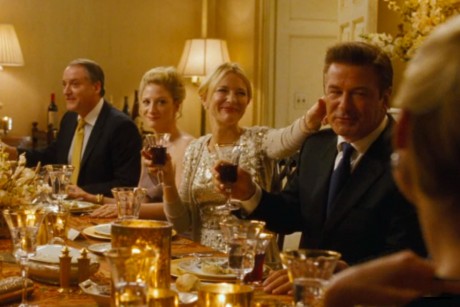 Jasmine is no better. When you come down to it, her ultimate crime is that she has bad taste.
— Peter Keough