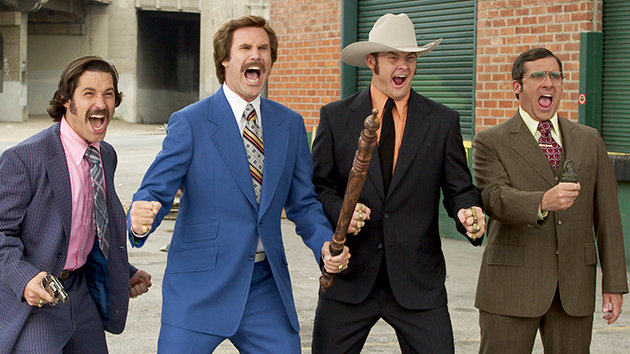 "Christmas comes but once a year" is beginning to sound more like a promise from the major Hollywood studios than an expression of seasonal joy. There were some good films worth discussing; some bad films worth excoriating. But mostly we were served helpings a plain, squishy vanilla, movies so devoid of, well, almost anything, that they evoke as much a discussion as "Didja like it?" "Eh."
So here, in no particular order, are some of our Yuletide visitations.
Anchorman 2: The Legend Continues.  No doubt lots of people were quick to call this latest Will Ferrell comedy dumb (even if as in "dumb but funny"), but I wonder if any in the audience realized that the movie called them stupid. Set in the very early 1980s, the movie takes the start of 24-hours cable news as its backdrop and says outright that CNN (called GNN in the movie) and its imitators were/are so successful because the pander to the emptiest part of the American brain. And that's all of the American brain; no one in the movie differentiates between a smart American audience and a stupider one. We're all idiots together as far as the movie is concerned. Well, good point.
Ron Burgundy (Ferrell) and his misfit news team (Paul Rudd, Steve Carell, and David Koechner) are disappointed to find themselves relegated to the graveyard shift at the upstart news operation, so much so that Burgundy takes it into his head to dedicate their hours to "America," meaning cute animal and mawkish human interest stories. They area hit of course.
So much for the clever stuff. Otherwise, the movie is a rehash of the jokes in the first go-round, endlessly recycled. Carell's character, the weatherman, is still a schizophrenic who spouts non-sequiturs; once more, Koechner is the clueless sports anchor who has a gay crush on Ron (is that gay "joke" still funny? was it ever?); and Rudd's investigative reporter is still, well, kind of a womanizer, but in a nice way because he's Paul Rudd. Typically for a Ferrell movie, if he and his director Adam McKay think they've got ahold of a funny joke they milk it until the cow runs dry. Whether you think the movie depends on your patience, your appetite for repetition, and your gratitude for a movie that has even a teeny tiny taste of satire.
The Hobbit: The Desolation of Smaug.  Peter Jackson continues his vain effort to craft a trilogy out of J.R.R. Tolkein's slight, unexpected bestseller, the one which prompted the Lord of the Rings trilogy. Even squeezing borrowed and invented characters to fill out the relatively scant dramatic landscape, Jackson has harvested acres of nothing. As he did in part one, Jackson employs the simplest of structures: some characters travel for a while, fight, travel again, fight, travel, fight, and so forth and so on. Such bare bones would be fine if Jackson sutured some flesh onto them, but there's nothing with blood in its veins on the screen. In place of the painfully unfunny "comic" scenes of the last movie, Jackson has relied on two action scenes: one with giant spiders (shades of Bert I. Gordon!) and a way, way too long climax starring a dragon. Partly as a result, the enterprise doesn't resemble The Lord of the Rings movies anywhere near so much as Jackson's gaseous, ponderous King Kong.
August: Osage County.  A Pulitzer Prize? Well, OK. This hackneyed tale of family woe in the boondocks was adapted by Tracy Letts from his own play and directed by John Wells with that misplaced reverence due Broadway tales of the common folk (think Bus Stop). Tell me if you've heard this before: A family patriarch dies and so relatives, their spouses and children come from near and far to join the stay-at-homes in an outpouring of vitriol and decades-old resentments, not to mention the revelation of scandals.
These machinations have chugged across movie screens so long that their operators have had to raise the scandal stakes and the scandals in such a recent rehash as this reach such ludicrous heights (or depths) that it's hard not to giggle from the very first.
Out on the Oklahoma plain – which we see every once in a while on typically over-composed, postcard-perfect images –old man Weston has drunk himself to death, leaving behind his widow, pill-popping Violet Weston. Because she is the most mentally deranged member of her clan, Violet assumes the status of lacerating truth-teller, the one who slashes through pieties, battling one army of clichés with legions of her own.
Violet is played by Meryl Streep, a cold performer who acts like she's a telegraph operator tapping out her meanings in broadly worded transmissions. There isn't much scenery in the old dark house Violet inhabits, but there's even less by the time Streep is done chewing and swallowing it. She is surrounded by a name cast whose names you will recognize but whose performances are unmemorable.
47 Ronin. Given its budget and what I assume were its ambitions, this is truly the worst movie of the year. Keanu Reeves stars as a half-Japanese, half-European young (?) servant in Japan during the Tokugawa shogunate. In an opening voice-over, a narrator refers to the shogunate era as "ancient Japan." The shogunate existed from 1600 to 1868 so you're tipped off literally from the movie's opening that the movie has no respect for Japan, its history or culture.
Actually, you're tipped off by the movie's title. The tale of the 47 ronin is an old one which has been made into at least six movies. The most famous is Kenji Mizoguchi's 1941 The 47 Ronin which he made under the orders of the Japanese wartime government. The emperor's regime wanted a pro-war, militaristic propaganda film, but Mizoguchi returned with a magnificent anti-war drama that, even without its background, is a classic. But there have been other good versions, too: Hiroshi Inagaki's 1962 Chushingura and Kon Ichikawa's 1994 47 Ronin.
This movie, directed by Carl Rinsch, is essentially a showcase for barely adequate special/digital effects, so-so action scenes, and dramatic scenes that would be more at home in a second-rate manga. It drrraaaggsss, in other words. The whole point of the story is lost in what, I suppose, you could call an update, the story rearranged to appeal to a modern audience. If this movie had another title, it would be terrible, miserable, awful. With the title it does have, it's also a travesty.
–Henry Sheehan