As you can see, there is some overlap with Mr. Keough's list, best and worst. That is a good thing.
1. Nebraska — From the very first shot of an old man shuffling along the side of an urban highway – against the direction of the traffic – you know you're seeing director Alexander Payne at the very height of his considerable cinematic mastery. The movie makes you want to say something about America, but I won't.
2. A Touch of Sin ­— Zhangke Jia's films till now have, broadly speaking, looked at the results of upheaval. Here he gets down to the upheaval itself, violent crime throughout China. Ultimately, it's motive more than action that matters, but, boy, that action.
3. Welcome to Pine Hill — 2013's other great movie about America. Keith Miller's debut feature about a man brought up short just when he's straightening out his life comes alive through Miller's attentive technique, manifest in, among other things, editing dictated by emotion.
4. Her – Spike Jonez, traditionalist filmmaker? Certainly not in subject matter, but he has certainly absorbed the great historic lessons of American cinema. Combined with his very contemporary story, he's come up with not just a fascinating movie, but a nearly unique one.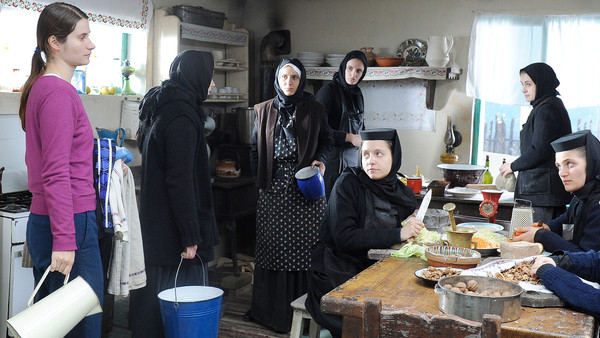 5. Beyond the Hills – Romanian filmmaker Cristian Mongiu continues to impress as one of the world's leading filmmakers. Typically, this movie tackles big subjects (how do old and new types of knowledge co-exist in the contemporary world?; what is madness?) but does perfect justice to its story about the reunion of two grown orphan girls. Brilliant.
6. The Act of Killing – Joshua Oppenheimer undresses a monster's psyche simply by offering to direct the creature in a movie about his crimes (during the Indonesian massacres of 1965). It's as simple and as complex as that.
7. Leviathan — Lucien Castaing-Taylor and Verena Paravel carried some video cameras aboard a North Atlantic trawler, held them or bolted them down, and allowed the images to form themselves before the lens. But then, they also distorted the film's clarity and color, making us work to really see what's what. A paradoxical way of freeing an image from excessive authorial control, but it works.
8. Upstream Color — I think I got what Shane Carruth was trying to say here, but I just might have been affected by the same delusions as the movie's characters. Original, engrossing, ingenious. What else do you need?
9. Byzantium — Neil Jordan's best Gothic outing in quite some time asks us what are we looking at when we look at female vampires? And it answers.
10. Ernest and Celestine – A warm and charming, but never mawkish and just suspenseful enough tale of a country bear and a town mouse. Directors Benjamin Renner, Vincent Patar, and Stéphane Aubier adopt a water-color style complete with imprecise lines, a "mistake" that works wonderfully. This listing is for the French original. The English dubbed edition opens in the U.S. later this year.
I've never done a 10 Worst List and, as Ebenezer Scrooge once said, I'm too old to change. But there are movies which drive me crazy for different reasons.
No apparent adult supervision: 47 Ronin
Saying you are smart over and over again does not mean you are smart: Before Midnight
No, this is not a step forward: The Conjuring
No good outcome possible: R.I.P.D.
If you don't know this by now, you will never, never, never know it: 12 Years a Slave
–Henry Sheehan