Henry's earlier item about mise-en-scene got me thinking about another filmmaking fundamental that seems to be falling victim to the plague of blockbusters: sound. You can't leave a movie these days without being numbed by undifferentiated, over-amplified noise. Also, his enlightening interpretation of "Man of Steel" reminded me that it's always fun to write about fascism.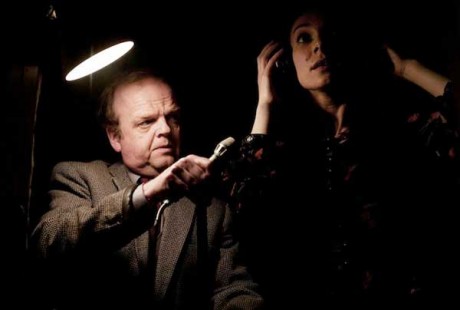 So as I was writing my review of "Berberbian Sound Studio" for the "Boston Globe" I reminisced, as is my wont, about my days back in graduate school when I was toiling over a final paper for a film course on Hollywood film genres. I cooked up what I thought was an intriguing thesis, but it got bigger and bigger and more and more complicated and I couldn't finish it and now it's only useful for writing long-winded prefaces such as this one.
What I was trying to do was combine ideas in Thomas Schatz's book "Hollywood Genres"  with the "The Political Unconscious" by Fredric Jameson (whose prose, I discovered, made more and more sense the more Jameson's you drank), and use them together to analyze two films from 1933, "King Kong" and "Gold Diggers of 1933."
Schatz's study drew, in part, on one central insight: all genre films are waking dreams in which the basic, irresoluble conflict of civilization – the desire for individuality versus the need for conformity – is enacted through a series of dramatic crises until resolved in a "utopian" final showdown (literally, in a Western, but figuratively in, say a screwball comedy).
Jameson also saw genres (literary and others as well as film) as a way of resolving irreconcilable conflicts with make-believe solutions except, resolute Marxist that he was (I'm talking around 1988 when I was writing this paper) he saw the conflicts as economic, consisting of the struggles between different modes of production (feudalism, capitalism, socialism) existing simultaneously in the same society with each vying for supremacy.
See where this is headed? Neither did I. Anyway, let's cut to "King Kong" and "Gold Diggers." My insight, and it was doubtlessly not original, was that both the metaphorical conflict of Schatz and the dialectical materialist version in Jameson could be reconciled when you throw in how each is reflected in the conflict in Hollywood modes of production, that is, the revolutions in the technology of the film itself. In 1933 Fascism and Communism and Capitalism were all vying for supremacy, with Hitler just taking over in Germany, Roosevelt beginning his first term, and Stalin doing his Stalin stuff, but in the tempest in a teapot that was Hollywood the biggest deal was sound, established in 1927, and now totally reshaping the industry. The genres that flourished during this period? The musical and the horror film.
The musical makes sense, but the horror film takes a little bit of a song and dance to fit into my theory. Let's start with Schatz. For him, the utopian resolution of the insoluble conflict occurs in a transcendent moment when oppositions exist simultaneously, as they so often do in movies. In a musical, that would happen during the production number when, contrary to the way things usually happen in real life, the orchestra sounds and Astaire and Rogers or everyone and their brother would dance their troubles away.
And in horror films? They existed before sound, but sound allowed one missing element that elevated the story to a transcendent realm, of sorts: the scream.
How does this apply to "Gold Diggers" and "King Kong?" Actually, the question wasn't exactly rhetorical. My notes are gone and my recollections are spotty. Maybe it went something like this:
In "Gold Diggers," a film that, despite its seemingly lighthearted genre, was about the Depression and how to reconcile the plight of the disenfranchised (read "conformity to society," as in social responsibility) with the demands of capitalism (read Ayn Rand's "Atlas Shrugged," but only if you feel you have to. I haven't). The impossible resolution? The incredibly moving final production number "Remember My Forgotten Man," which in a sense is a big plug for the New Deal.
And "King Kong?" Kong, I figure, represents the reign of a feudal, or tribal mode of production (big chief, placated by the tribute of his tiny followers) and could be interpreted as a metaphor for Hitler and the successful  barbarian Nazification of a modern capitalist state. Though it worked in Germany, for a while, in the movie version that is "King Kong," things are a little different. Here the capitalists, in the form of a movie mogul and his production company, invade a hidden enclave of a lost primitive mode of production, the fascist dictatorship of Skull Island.
The Yankee capitalists' secret weapon is not the gas and guns (and later, planes) but "Beauty," that emblem of the downtrodden  of the Depression, the starving out of work actress Ann Darrow, played by Fay Wray. She's cast by the producer as the heroine of his spectacle, and in a revealing scene he coaches her on how to scream. "Scream Ann, scream for your life!" he suggests.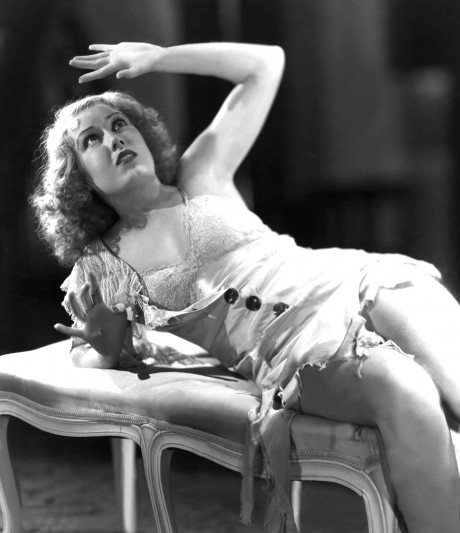 And so she does,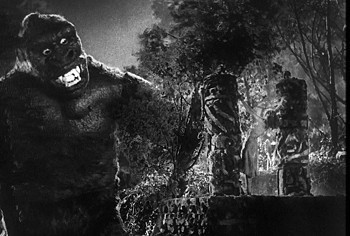 winning the heart of the beast, leading to his downfall, and prefiguring the victory of American capitalism over Nazism.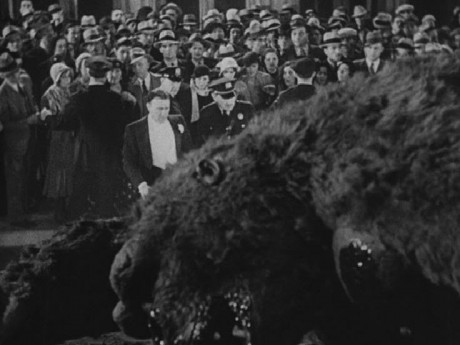 Kind of like Kracauer's "Caligari" except with a big gorilla.
So far I don't know what the meaning might be of the technological innovations of today – such as 3D, digitalization, and what have you. But I suspect it won't be pleasant.
Okay, now I feel better. I'm ready to review "Berberian Sound Studio."
— Peter Keough