Greetings. I'm the East Coast, Boston-based unit of this movie blog, the counterpart to L.A. movie critic legend Henry Sheehan. Despite the continental divide,our sensibilities have much in common, as we are both passionate lovers of film and both attended Boston College High School, where Fr. Leo Muldoon, S,J., was our Dean of Discipline.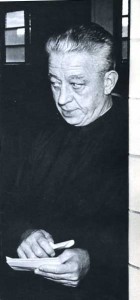 Draw what conclusions you may.
Here's my first post:
Living as I do less than a mile from the site of the Marathon bombings, maybe I was more squeamish than usual at a scene in "The Shadow Game" in which an IRA  terrorist leaves a bag containing a bomb in a London underground station.
I'm sure viewers in Britain, where the film opened last August, had unpleasant flashbacks as well. It seemed to get pretty good reviews, though. Not so great at the box office, however – it made around $300,000 at 150 or so screens, which at $2,000 per screen is barely "After Earth" numbers. Here in Boston the distributors seem a little unsure about their product, as its opening has been kicked like a can down the road week after week. Now it's scheduled for June 14: we'll see if that's "too soon."
Be that as it may, my initial discomfort gave way to anxiety for the well-being of the terrorist. You have to feel for her. She's bearing  guilt and anger from a childhood incident when she passed off an errand to her younger brother, who got shot, presumably by British soldiers, for his troubles. Now as an adult, Collette, played by a winsome and worried Andrea Riseborough, no longer has the stomach for the terror business, especially since she has a boy of her own. But a British anti-terrorist agent played by haggardly handsome Clive Owen is strong-arming her into betraying her group.So they fall in love.That's the problem with terrorists, at least in the movies; to know them is to love them.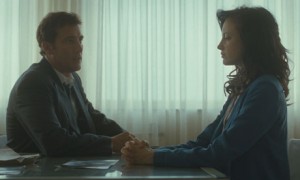 Such is the case in Zak Batmanglij's "The East" as well. Here a corporate undercover agent played by the smart, tough, good-looking Brit Marling infiltrates a cell of eco-terrorists headed by the smart, not so tough, but equally good-looking Alexander Skarsgard.
This group is more precise in its targeting: rather than indiscriminately threaten the hoi-polloi taking public transportation, they go after the rich and privileged elites responsible for poisoning the environment, destroying the economy, and, in general, ruining everything for everybody to enrich themselves. So, despite the cabal's smug self-righteousness, you can understand how Marling's agent might be seduced by their message, not to mention by Skarsgard's ripply torso. Unfortunately for the distributors of "The East, however, apparently their plans to promote the film in Boston by bringing in Marling for interviews went awry and they had to cancel. It seems she was supposed to be in town on April 15, the date of the Boston Marathon.
The studios might be cautious, but what are we to make of their insistence that terrorists are essentially loveable and misunderstood? What does that say about the audiences they are appealing to? That deep within the most law-abiding citizen is a repressed urge to raise hell?
Such is the premise of "The Purge," which opens June 7. In the year 2022, a group called "the New Founding Fathers" has taken over the country. They've managed to reduce unemployment to 1%, and nearly eliminate crime.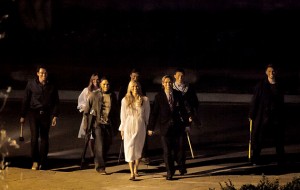 Their solution? Simply set aside one day every year in which anarchy reigns – theft, rape, murder, double parking, whatever suits your fancy. I reviewed this for the "Boston Globe," but here are a couple of quick thoughts. Wasn't this same story on "The Twilight Zone" at some point? If not, it should have been. As a 30 minute TV episode it would have worked just fine.
Secondly, James DeMonaco's film does offer one intriguing insight. Here and there, mostly on the TV broadcasts in which pundits discuss the merits and shortcomings of the "Purge," it is suggested that this policy insidiously benefits the rich, who can afford better weapons and the elaborate security systems sold by the film's protagonist (played by Ethan Hawke). Since the poor are therefore inevitably the victims, they are in effect culled from society – Neo-liberal, Darwinian economics at their most primitive.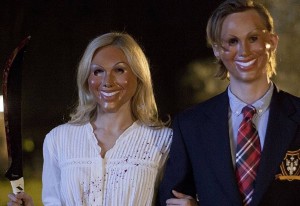 Oh, well. The closest the film gets to developing this rather subversive concept is by having the chief ringleader of the bad guys wear a prep school blazer.
–Peter Keough